Message from the President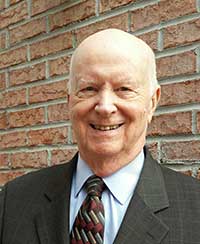 Thanks for visiting the Georgia DECA Foundation website today. The summer zoomed by and the new school year is underway. We have opened another fundraising effort to support the students and advisors of Georgia DECA, DECA's SECOND LARGEST HIGH SCHOOL CHAPTER IN THE WORLD.
DECA Inc, founded in 1946,. is a 501(c)(3) not-for-profit student organization with more than 177,000 members in all 50 United States, the U.S Virgin Islands, Guam, Puerto Rico and 5 countries around the globe. It operates in 3200 high school and over 200 collegiate chapters with 5300 certified teachers or advisors. The United States Congress, the United States Department of Education and state, district and international departments of education authorize DECA's programs which are administered through state and local chapters
Georgia DECA was one of the founding state chapters of DECA. Its membership this past school year was almost 12000 in 158 local chapters with 223 advisors across the state. Three high schools were ranked in the top 10 Chapters in the world… South Forsyth-2nd, West Forsyth-4th, and Lambert-10th. All chapters have started new membership drives with the anticipation of increasing numbers and getting through the year pandemic free.
You are invited to browse through the following pages to evaluate how you might become involved in supporting the students and advisors. The "About Us" page outlines more about the program and how we use funds and make distributions. You may also visit both the DECA and Georgia DECA websites, www.DECA.org and www.gadeca.org
The "Donate" button in the upper right corner operates 24/7 for PayPal and credit cards. Recognizing many are having rough times currently, instead of one payment, you might consider setting up small monthly installments. Also, both Amazon and E-Bay donate a portion of your purchase dollars to the Foundation once you designate Georgia DECA Foundation of a charity of choice. There are links (upper right) which make it easy to set up.
The size and scope of the Georgia DECA community earmark a great marketing opportunity and channel of distribution for your goods and services Please contact me directly if you have any questions or are interested in considering sponsorships. My contact information is below
While there are many organizations requesting support today, an investment in tomorrow's leaders today is one which we believe deserves your consideration. On behalf of the Board and Georgia DECA students and advisors, thank you for your time and for that consideration.
-Bob Armbruster, Board Chair & President
GA DECA Foundation, Inc.
[email protected]